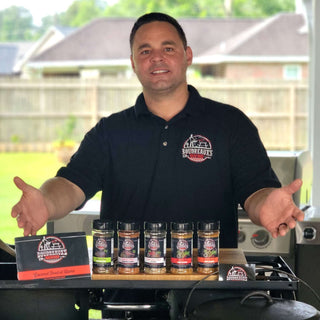 The Backyard Story
As a Louisiana native, my love for gourmet cooking started in the heart of my family's kitchen, where the distinct flavors of Cajun and Creole cuisine shaped my culinary journey. Yet, Boudreaux's Backyard is not just about my roots, it's about a universal love for food, and more importantly, a passion for creating gourmet meals in the comfort of our own homes.

The idea for Boudreaux's Backyard was born out of a simple question: How can we replicate the depth and richness of restaurant-quality dishes at home? The answer, I discovered, was to create a simple, but premium gourmet product line to aid in your creation of backyard masterpieces and show you exactly how to use them!

To aid Backyard home Chefs on our culinary journey, I've developed a line of premium seasonings, each one drawing inspiration from different facets of my Louisiana heritage and the diverse world of gourmet cooking. These seasonings are more than just an alignment of flavors; they are your toolbox, your secret weapon, in achieving extraordinary meals at home, and are just the first part to this amazing product line.

Creating these seasonings was a labor of love, a nod to the tradition and art of gourmet cooking. With these seasonings, I aim to empower you, fellow food lovers, to bring a bit of Boudreaux's Backyard into your own homes. I hope that they will inspire you, as they have inspired me, to create, experiment, and find joy in the art of home cooking.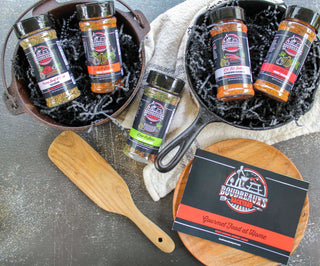 Gourmet cooking, right in your backyard!
To me, the backyard is more than just a patch of grass behind the house – it's a sanctuary, a bustling kitchen, and a dining room under the open sky. It's where the magic of creating stunningly delicious food happens, amidst the laughter of loved ones and the playful shouts of children.
The flavors of a dish seem to come alive when you cook it in the backyard, the gentle smokiness of the grill mingling with the fresh outdoor air, imbuing every meal with a distinct touch of home. There's an intimacy in backyard cooking, a sense of being at one with your ingredients, your tools, and the environment.

To me, there is no sound more harmonious than the sizzle of a prime aged tomahawk ribeye on a hot grill or the comforting bubbling of a pot of homemade gumbo. There is no sight more beautiful than the glint of a glass of Malbec catching the setting sun, and no taste more satisfying than a bite of a gourmet burger crafted with love.

Whether it's cheering on the Saints with friends over local craft brews or sharing stories around the fire pit with family, the food we create and enjoy in our backyards is the thread that weaves these precious moments together. It's not just about eating; it's about celebrating, creating, and sharing experiences that nourish our bodies and our souls.

So, let's head to the backyard, light up those grills, and immerse ourselves in the shared joy of creating beautiful and delicious food. After all, every backyard is a potential gourmet kitchen, and every meal an opportunity for an unforgettable gathering.
Happy Backyard Cooking,

Justin Boudreaux
Founder/Owner, Boudreaux's Backyard