This whole roasted cauliflower is as elegant as it delicious. The caramelization of the cauliflower from roasting whole gives it a unique taste as well as texture. Served with tzatziki sauce this will impress one or many. Enjoy!!!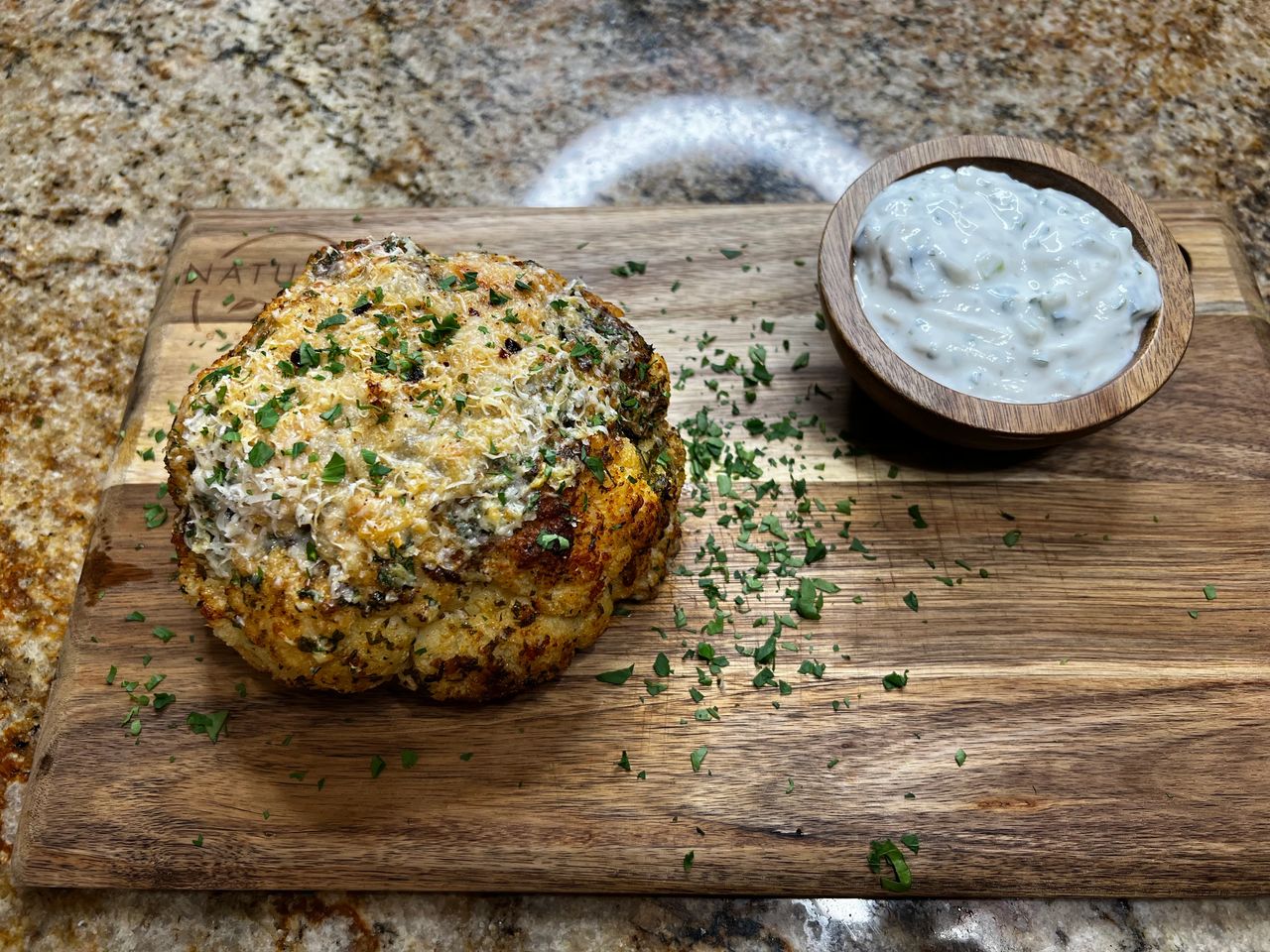 Ingredients 
whole head of cauliflower
1 stick butter softened 
4 cloves garlic 
1 tsp chopped parsley 
1/2 cup grated fresh parmesan
2 tbs chicken broth 
1 cp Greek yogurt 
1 lemon juices and rind 
1/2 cucumber seeded and grated or fine chopped 
salt
fresh black pepper
garlic powder
Italian seasoning 
Directions
Prepare cauliflower by removing all green leaves from core. Cut stem as short as possible.
Make garlic paste by fine mincing then applying salt and running knife blade over the minced garlic. Reserve 1 tsp for sauce.
Make compound butter by mixing garlic parsley and softened butter.
Smear 1/2 of the butter on the cauliflower and season with salt, pepper, garlic powder, paprika and Italian seasoning.
Place in a Dutch oven with chicken stock and cover. A sheet pan can be used with foil to cover if needed but try to tent the foil above the cauliflower, so it doesn't touch.      
Bake at 425 convection for 45 min. 
Make sauce by combining yogurt, cucumber, remaining garlic paste, lemon juice and rind, parsley and salt and pepper.
Remove cover from cauliflower and spread on remaining butter and top with Parmesan cheese. Cook 15 more minutes until browned. 
Serve whole and can be cut tableside into wedges with sauce.